The One Ton Challenge is a weekend long, global crossfit event. I joined the project to help rethink & redesign the sign-up flow & the user dashboard. This event can be joined by individuals or gyms. The challenge was to create two separate sign-up experiences from the same starting point. Time was a constraint because the project needed to be done yesterday and the promotion for the event had already begun.
​​​​​​​
The first thing I did was to audit the sign-up flow as it was. Some of the main questions to guide me on the audit were: what is working and what is not?, Which metrics are collected and which metrics should be collected?, What has already been tried, and what impact did it have on metrics?

 

This audit was a way to pinpoint which areas of the flow were causing frustration for the users. 
An easy win revealed by the audit was to change the way sign-up data was collected.
The original sign-up was done on a single screen and the user needed to input all his/her information at once which lead to a discouraging and boring sign up process (there were more than 15 input fields! ). We wanted to make sure that the sign up process was as simple as possible to encourage completion so we designed a multi-screen sign up which included a progress bar. We also audited the fields themselves and got rid of information that could be filled in at a later point.
There was also no data being collected about user completion rates or preferences so w
e put in place a way to track users during onboarding. This data will inform how we design the next iterations of websites for future events. 
PERSONAS, FLOWS & PROBLEM STATEMENT
Through user research I
established two different user personas, a crossfit enthusiast and a crossfit coach. Spencer (crossfit enthusiast) & Andy (crossfit coach) need a way to sign up for the One Ton Challenge global event. Spencer needs to track & log his progress and he also needs to join a local gym. Andy needs an easy way for his studio members to sign up for the event and he also needs to track their progress and keep them motivated.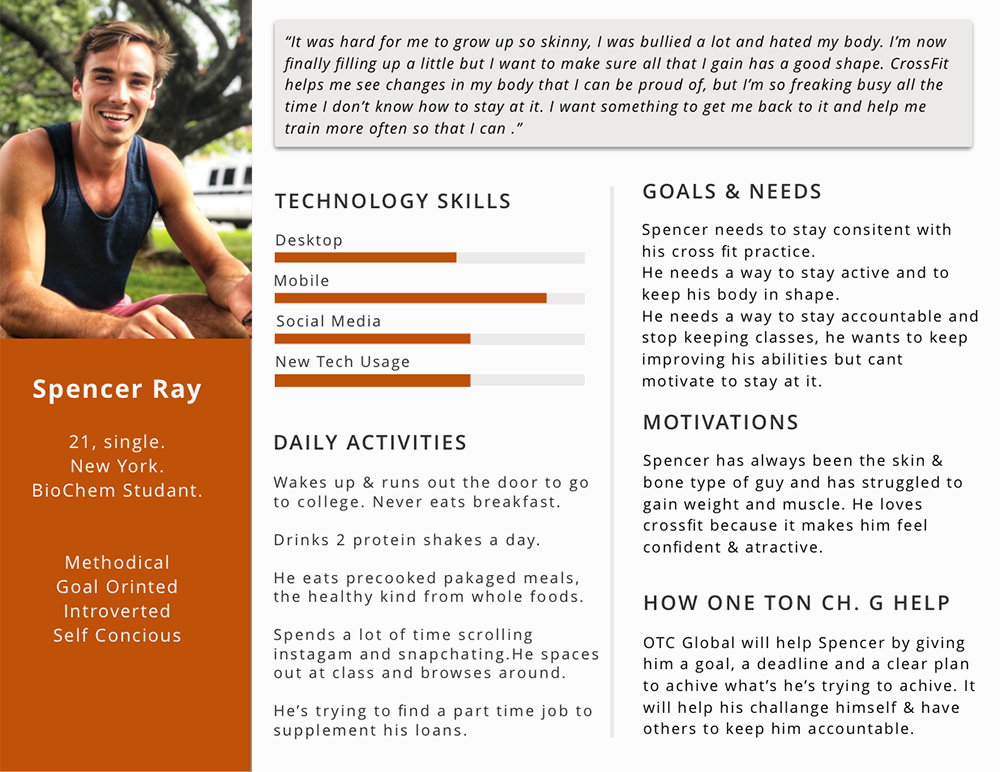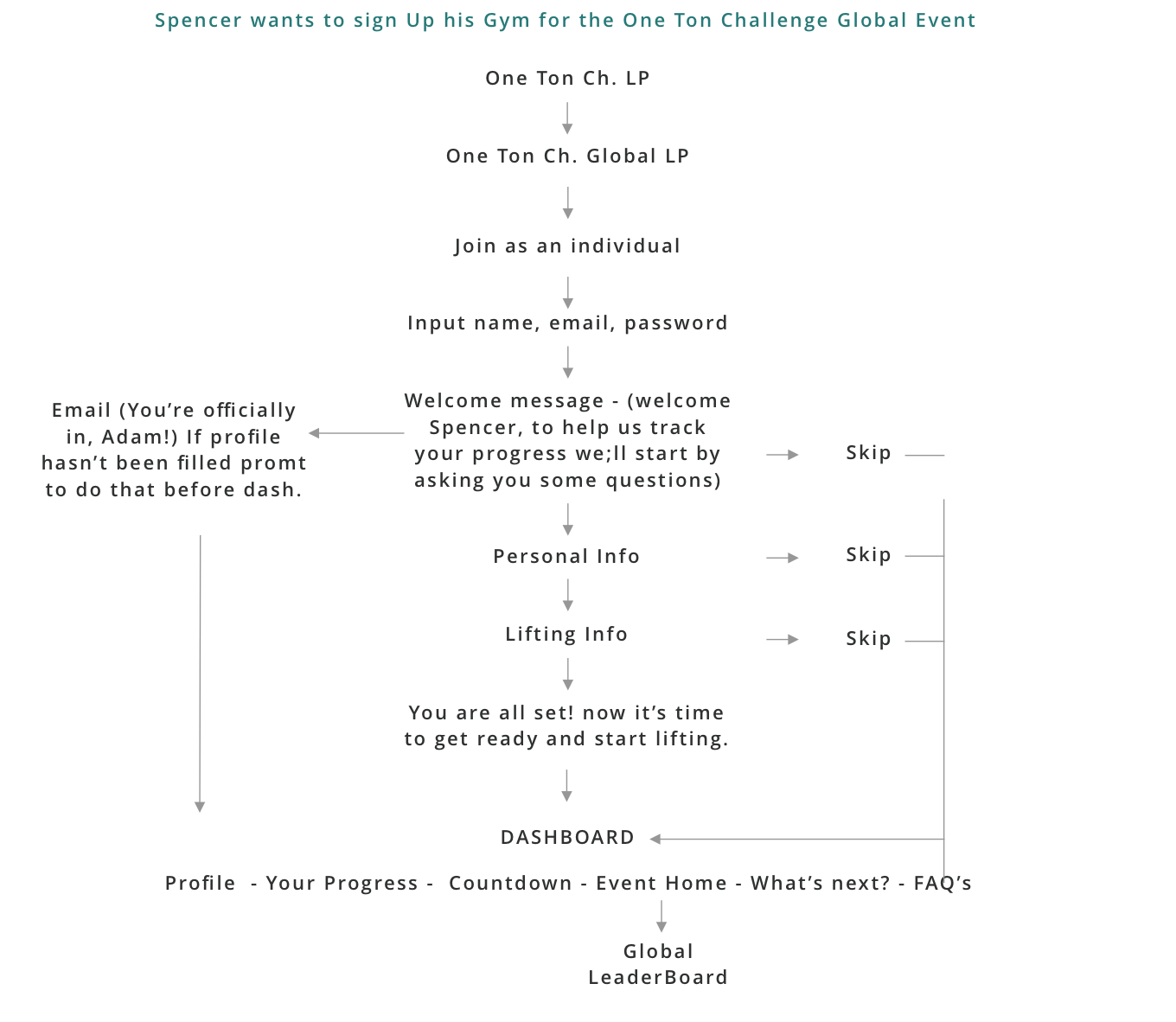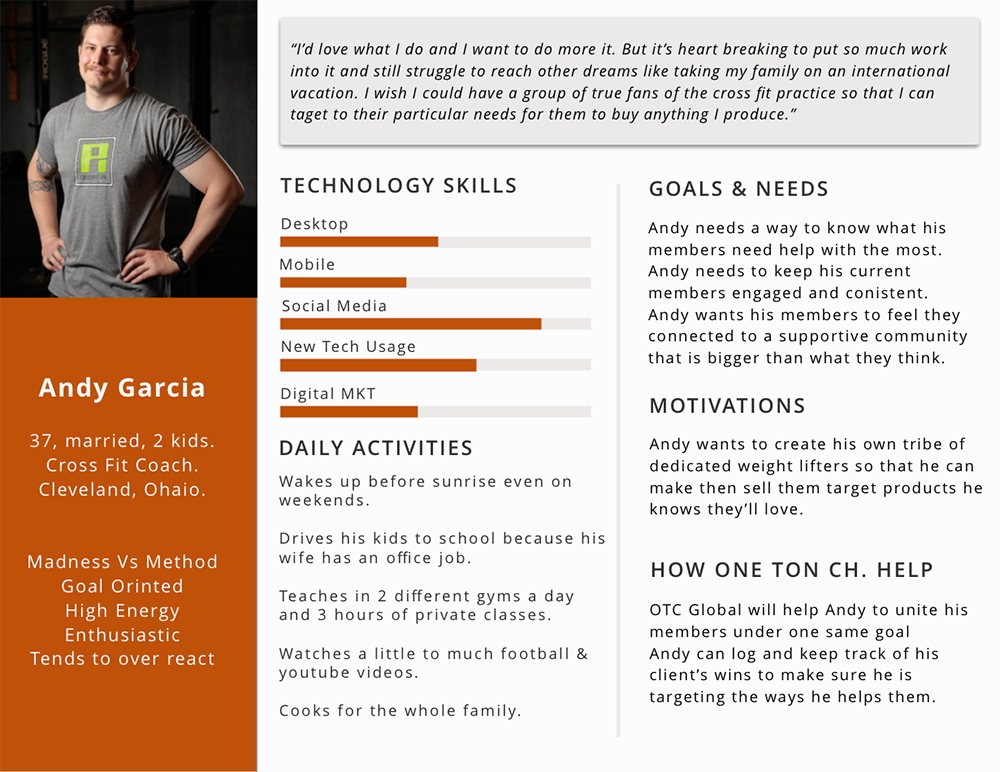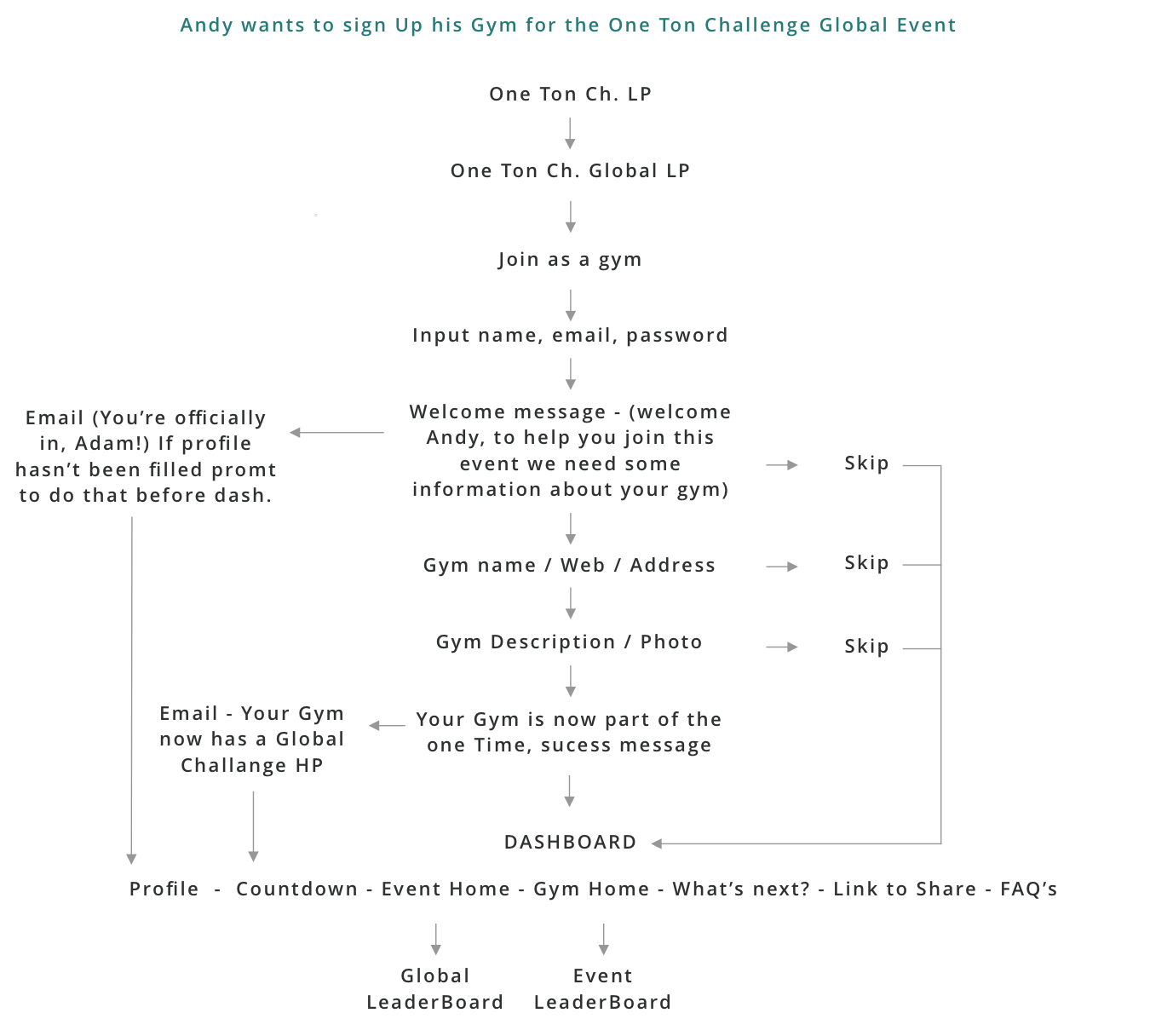 After trying multiple screen & flows variations and a lot of discussion with the lead developer of this project, we settled on what we saw as the most helpful screen options. From those, I built mid fidelity prototypes.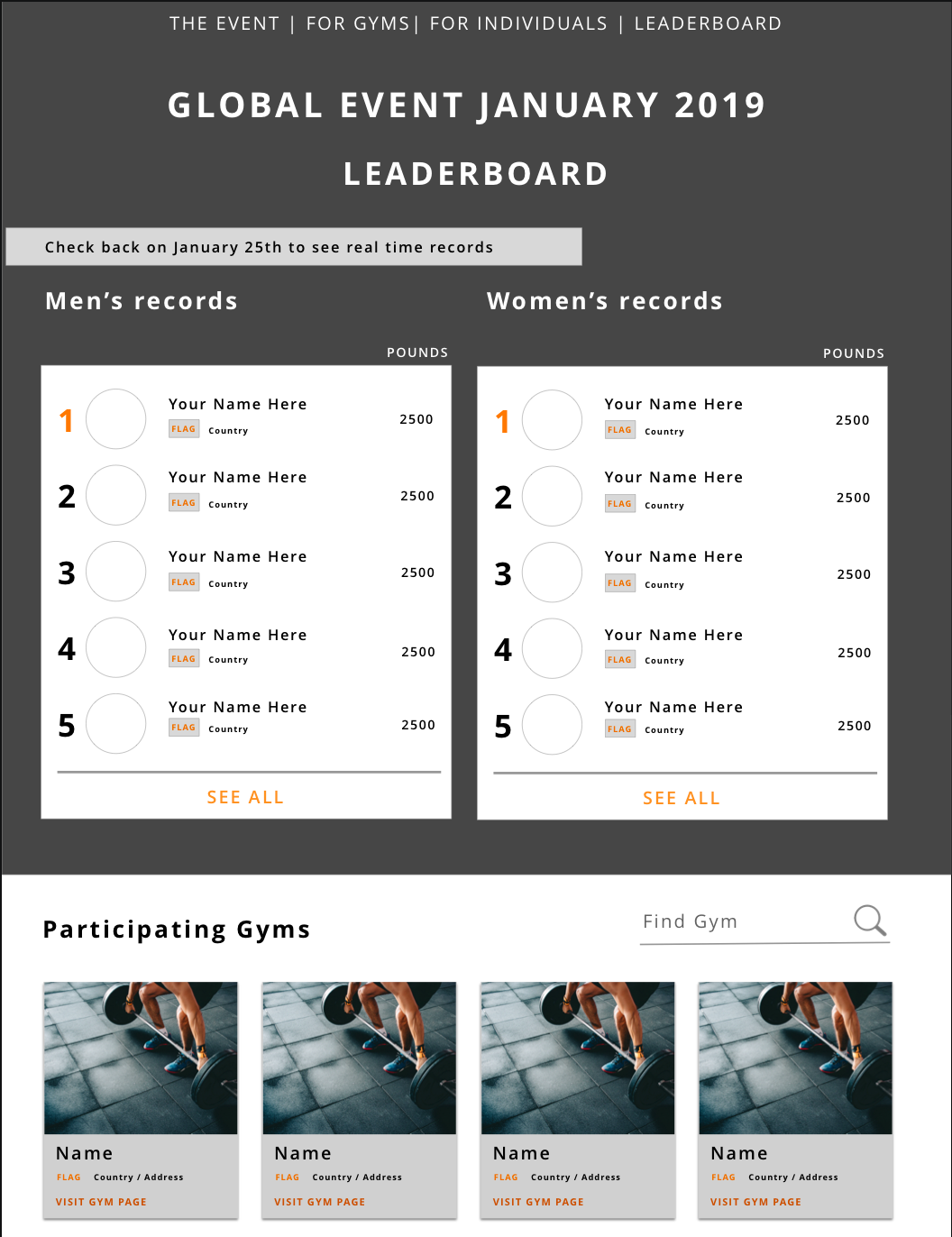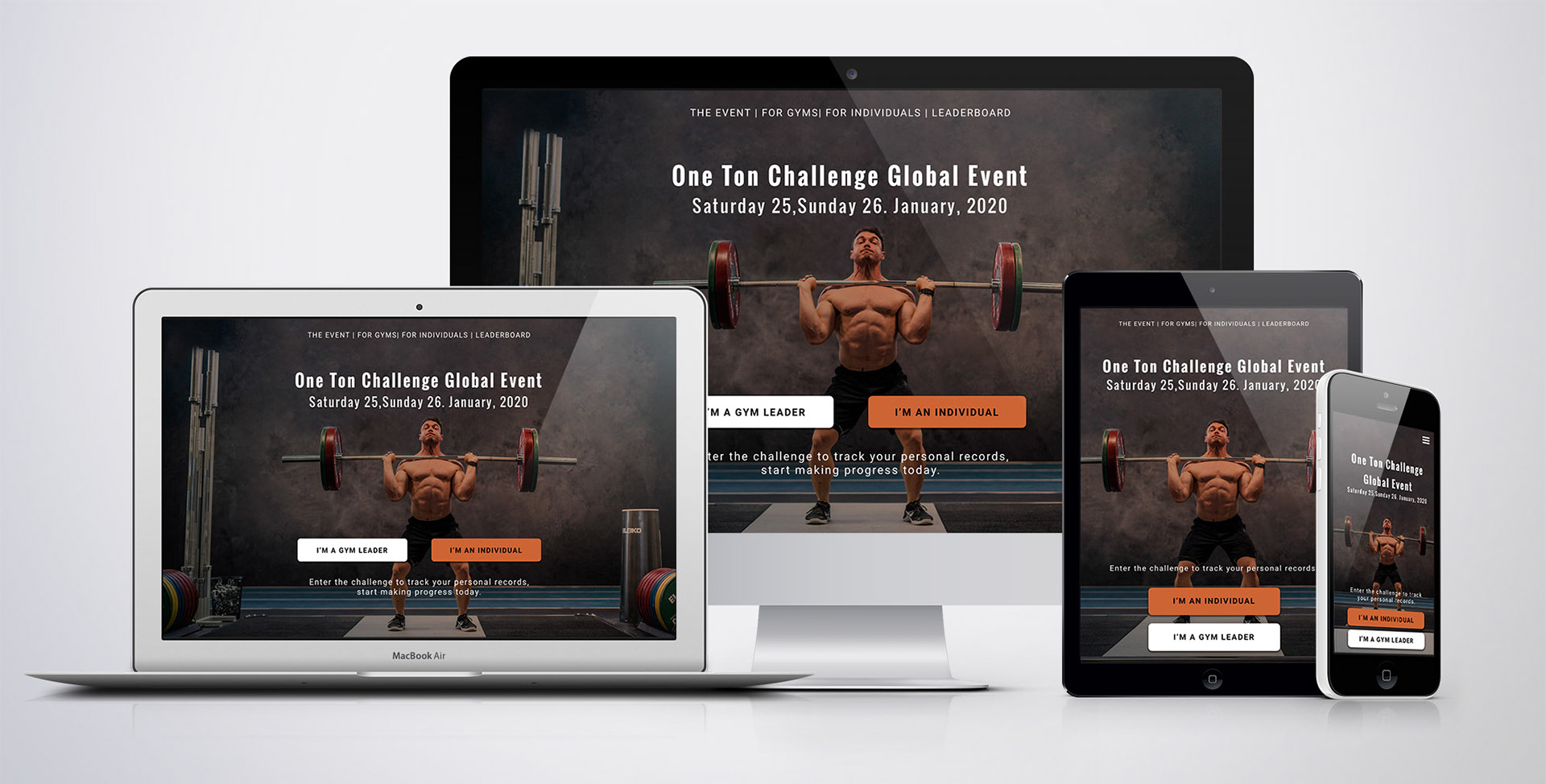 This project was all about being scrappy & adapting to the fast pace of a startup. It required me to get creative when researching the users and the market. It also showed me how powerful it can be to to have engaged developers to give quick feedback and opinion on designs.